Deanna Michel Boutique is a fashion brand that was created by Deanna M. Laster. Deanna Michel Boutique will be at Oxford Fashion Studio's New York Collections at 5pm in Studio 450 on 8th September.
---
So who is Deanna M. Laster?
Deanna M. Laster is a Houston native with an extensive background in lifestyle development, leadership and education. Deanna has a Business Administration degree from the University of Houston and she also has experience in fashion design, project management and life coaching. With more than over 20 years of consulting experience, Deanna has lead multi-million dollar projects successfully in industries including Energy, Travel and Health and Beauty.
After many years, Deanna's Entrepreneurial spirit led her to start DeannaMichel Inc. An umbrella corporation that consists of other projects such as DeannaMichel (Women's apparel), The Be Factor (Lifestyle management) and Sisters-N-Bloom (Non-profit foundation) which was founded to provide funding to women's empowerment initiatives – something that Deanna is very passionate about. Deanna's life purpose and passions are for Fashion, Women's empowerment and Community Outreach.
Deanna's Personal motto is, "Success is not measured by your accomplishments but the journey along the way." Her ultimate goal is to live a purposeful life and to inspire others along the way to strive to experience their fullest potential.
After conducting this interview with Deanna, it is evident to see her sheer passion and love for what she does. She is a member of The Fashion Group International (FGI), The National Concierge Association (NCA) and Project Management Institue (PMI), she has also earned several community service awards such as The Steed Society's Top 25 Women of Houston and Top 40 Under 40, YMCAMinority Achievers and The Greater Houston Black Chamber of Commerce Pinnacle Award Finalist and most importantly Deanna is a Devoted Wife, Loving Mother and Member of Lakewood Church. Here is what she had to say during our interview:

Why have you chosen Oxford Fashion Studio to showcase your amazing designs? 
The Oxford Fashion Studio brand looks to have a positive industry track record for professional shows, they are overall industry savvy and have a global presence.

What was the inspiration behind this collection?
The DeannaMichel Urban Idealist Spring 2017 Collection curates the contrast of stripped denim with abstract art as our continued expression of a free-spirited nature. The minimalist silhouettes have well-placed seam lines and panels to accent curves with an easy to wear flow. Each garment starts a unique story for the DeannaMichel girl to wear and fill in the details!

Who is the DeannaMichel Woman?
The DeannaMichel Woman is mature yet fun-loving, professional yet free-spirited, bohemian yet chic. She is a trendsetter who loves to make a bold statement when entering a room. The DeannaMichel Woman is all about being fashion forward however she is so much more than that: She is all about giving back. She uplifts and empowers other women as well as her community. The DeannaMichel Collection will take you from day to night, from the board room to the Bahamas and everywhere in between.

What is your brand ethos?
Our contemporary collections are comprised of influences drawing from bohemian and chic motifs. The term "Bohemian" is described as "simply an artist or littérateur who, consciously or unconsciously, secedes from conventionality in life and in art". "Chic" was borrowed from the French in the late 19th century and has come to mean stylish or elegant.
We design free and romantic garments targeted to fashion-forward women driven by uniqueness and desire to accentuate her confidence and class through style. We look forward to our clients indulging in the DeannaMichel brand to include exclusive Pop-Up Shops, Fashion Shows, Personal Styling Services and Community Outreach.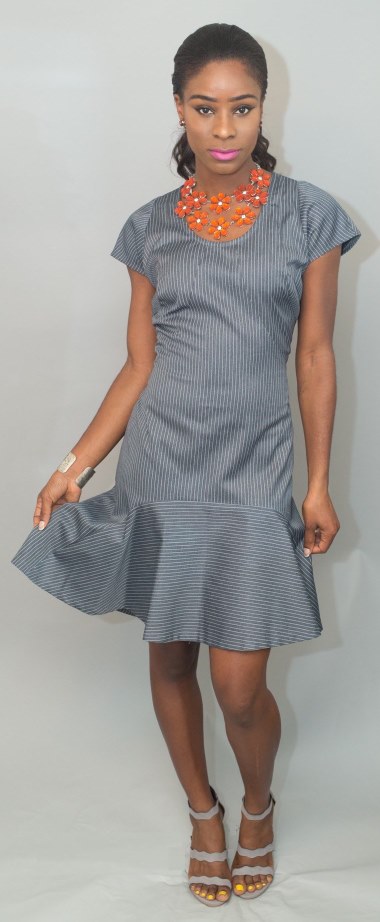 What have you designed prior to this collection?
The collections I have worked on Prior to Urban Idealist are called Blurred Lines, Dipping Point and Ebb and Flow.
This slideshow requires JavaScript.
This slideshow requires JavaScript.
This slideshow requires JavaScript.
What made you into the designer that you are today?
(Taken from an interview done with Empower Magazine http://www.theempowermag.com/fashion-beauty/houston-entrepreneur-takes-bold-fashion-steps/ )
EM: Besides developing your craft at HCC, did you have any other artistic influences?

DL:  Both of my grandmothers are fashionistas in their own right.  They were both well put together and they sewed clothes.  My grandmothers were trendsetters; they always cared and had a strong concern for the way they presented themselves.  As a child, I was always in awe of magazines such as Vogue and Glamour.  I would go to the local drugstore and write letters to the designers, there wouldn't be a name but there was an address to forward my questions.  I was about 12 or 13 and I really wanted to get into fashion.  One day I started to receive boxes and shipments of samples from the designers that I wrote letters to.  I could not fit them, but I was excited to see that they actually read my letters and sent clothing to inspire me even more.

What other designers do you aspire to be as successful as?
Issey Miyake, Alexander Wang and others.
If you could put your designs on any celebrity, which would you choose and why?
Michelle Obama – She is the ultimate reflection of my brand – The Trailblazer, Fashion Savvy, Intellectual, Free Spirit.
When you are asked, "What is Fashion?" What is the first thing that comes to mind?
Art!
What is your go-to outfit/ What is your signature style?
Maxi Skirts.
What is the motivation/inspiration behind your Fashion Career?
Women's Empowerment.
What advice would you give to an up and coming designer?
Pursue the passion with purpose.
What is next for you and your brand?
Continue to create designs that inspire fashion forward women and buyers to carry the line.
Is there anything you would like to say to Oxford Fashion Studio?
Much success on the 2016 shows!
---
I hope you have enjoyed this interview with Deanna Michel, you can see her new collection Tomorrow, Thursday 8th at 5pm in Studio 450.
Victoryforu
Victorious Everyday